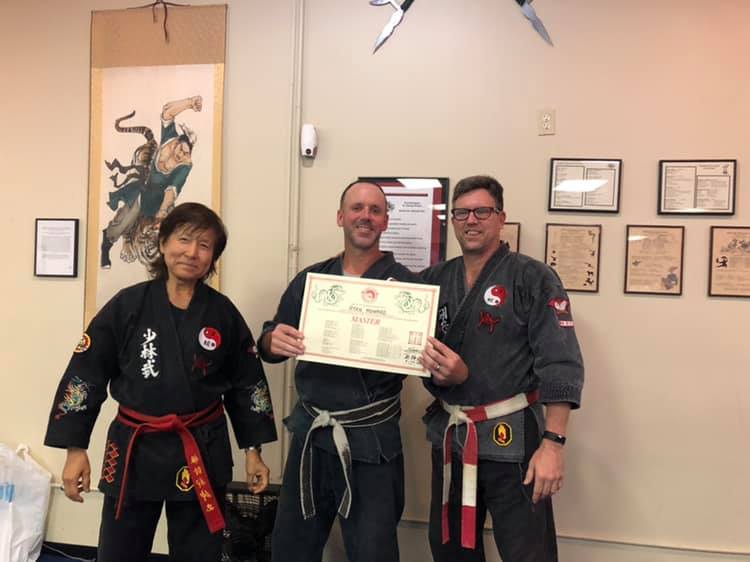 Master Ryan Howard is a 6th degree black belt in the art of Shaolin-Do. He owns and operates the San Antonio Shaolin-Do schools and is dedicated to the art and students involved. He has also worked with the NBA San Antonio Spurs. Teaching Tai Chi to players and coaching staff. He also worked with US Federal Agents on the "Use of Force Tactics."
His passion for teaching and practicing the art of Shaolin-Do is contagious and encourages each student to use Shaolin-Do as a path to personal fulfillment. Men, women and children all benefit from his sincere and friendly approach to instruction.
The atmosphere at the San Antonio school is one of camaraderie and support. We try to promote mutual respect within our system and the result is a friendly environment with people working enthusiastically toward common goals.Has been teaching Shaolin-Do since 1998
Started teaching in Austin, TX in 1998.
Opened the first Shaolin-Do school in San Antonio, TX in 2000.
Certified instructor by Grandmaster Sin Kwang Thé.
Is a full-time martial arts instructor.
Has worked with the NBA San Antonio Spurs (with all players & coaches) as their official Tai Chi instructor.
Tai Chi instructor for Wounded Warriors Program at Brooke Army Medical Center in San Antonio, TX.
Use of Force Instructor for US Federal Agents in South Texas.
Has taught various Kung Fu & Tai Chi seminars throughout the San Antonio area and out of state.
Taught visiting physicians from Northern Europe the basic elements of Tai Chi at the International Rheumatologist (treatmentof joint degenerative diseases) conference (attended by 20,000 Doctors from around the globe) held in San Antonio.
Promoted to 5th degree black belt (Associate Master Level) in August, 2013 by Grandmaster Sin Kwang Thé
Promoted to 6th Degree Black Belt (Master Level) in August, 2019 by Grandmaster Sin Kwang The`
Member of SDA since 1996 (Shaolin-Do Association) www.shaolin-do.com
Member of MATA since 2006 (Martial Arts Teachers Association)
Is a longtime student of Master Joe Schaefer and attends classes in Austin, TX as he prepares for his 7th degree black belt exam.
Has produced over 100 black belts in San Antonio since the year 2000. Several of them have opened their own schools.
Graduated from Southwest Texas State University (Texas State) in 2002 with a degree in Criminal Justice.
Traveled to China in 1998
Visited the Shaolin Temple, Chen Tai Chi village and other martial art schools throughout China.
Has won multiple 1st place trophies in state and national level tournaments in advanced black belt sparring and forms competition.
Has been featured on the morning KENS 5 television show Great Day SAHas participated in numerous seminars provided by masters in the art of Shaolin-Do:
Grandmaster Sin Kwang Thé SinThe.com
Elder Master Bill Leonard SinThe.com
Elder Master Eric Smith
Master Joe Schaefer AustinKungFu.com
Elder Master Frank Mingione
Elder Master Gary Mullins
Master Jeff Rose
Master Eric Bullock